Featured Program

Marquette University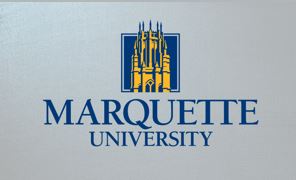 Marquette University
1250 W. Wisconsin Ave.
Zilber Hall, 136
Milwaukee, WI 53233
Phone: (414) 288-7302
Visit Website
Mechanical Engineering
Marquette University
Milwaukee, WI

Mechanical Engineering

From virtually indestructible composite materials to the most fragile fiber optics, mountainous earth-movers to microsurgical robots, today's automobiles and tomorrow's spacecrafts, the diverse work of mechanical engineering majors touches nearly every aspect of life.

Marquette mechanical engineering majors design and build solar-powered boats and mini-Indy race cars that race against collegiate and corporate competitors throughout the world.

From your first day of classes as a mechanical engineering major, you'll get hands-on experience in our innovation and discovery learning labs. You can also work in our labs for thermal-fluid science, machine design, mechatronics, robotics, manufacturing and automation, material science, and engines.